April 4, 2021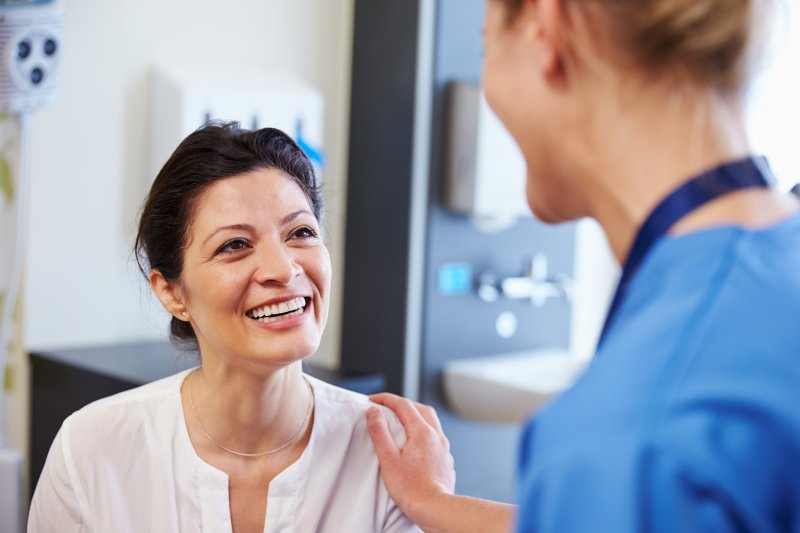 While it's true that dental implants are becoming more available to people than ever before, there are certain dental issues that can interfere with successful treatment. After all, dental implants need a favorable environment to remain healthy in the long-term. However, just because you may be dealing with one of these issues doesn't necessarily mean you can't receive dental implants at all. To learn what attributes you should have prior to beginning dental implant treatment and how a dentist can help you achieve them if needed, keep reading!
Positive Oral Health
No matter what type of oral surgery you receive, it's important to have good oral health before going through treatment. If gum disease or tooth decay is present, it could negatively affect the implant's ability to heal. If needed, comprehensive dental cleanings and gum disease therapy can be completed by a dentist in order to get the mouth back to optimal health.
Sufficient Bone Health
If the bone tissue is not thick enough to receive a dental implant, it won't be able to integrate properly once it is placed. During an exam, a dentist will perform X-rays of the jaw to confirm the volume of the jawbone to ensure the most successful dental implant placement possible. Whether gum disease has damaged your bone tissue or your bone has deteriorated due to having missing teeth for a long time, a bone graft can be performed to expand the volume of the jawbone and make dental implant treatment possible.
A Dedicated Oral Hygiene Regimen
Just because the post and restoration that make up dental implants cannot develop decay, that does not mean a strong commitment to brushing and flossing at home isn't necessary following implant treatment. The gum tissue that surrounding the implant can just as easily become infected, causing the implant to fail. Thankfully, caring for an implant is almost identical to caring for natural teeth. By brushing twice a day with fluoridated toothpaste, flossing once a day, and maintaining routine exams and cleanings with a dentist, dental implants can last for decades without much worry.
Good Overall Health
While it may not be something you're thinking about at first, having good overall health is an essential prerequisite for receiving dental implants. This is why dentists often ask for medical history when you become a new patient and especially when you want to complete oral surgery.
For example, those who have uncontrolled diabetes will need to make sure that it is under control before beginning dental implant treatment as it can interfere with the healing process dental implants must go through to remain healthy.
Dentists are more than happy to help you achieve a beautiful smile with dental implants, even if you feel your pre-existing problems are holding you back. Get in touch with an implant dentist today to learn more about the process!
About Glastonbury Dental Associates
With decades of combined experience between them, the doctors of Glastonbury Dental Associates are dedicated to creating a pleasant, productive, and informative dental experience. Whether you're completing a routine checkup or replacing a number of teeth with dental implants, you can expect your care to be handled by a passionate and highly educated team of dental experts. To schedule an appointment, you can contact them through their website.
Comments Off

on What Issues Can Prevent You From Getting Dental Implants?
No Comments
No comments yet.
RSS feed for comments on this post.
Sorry, the comment form is closed at this time.