Root Canal Therapy – Glastonbury, CT
Save Natural Teeth Safely and Effectively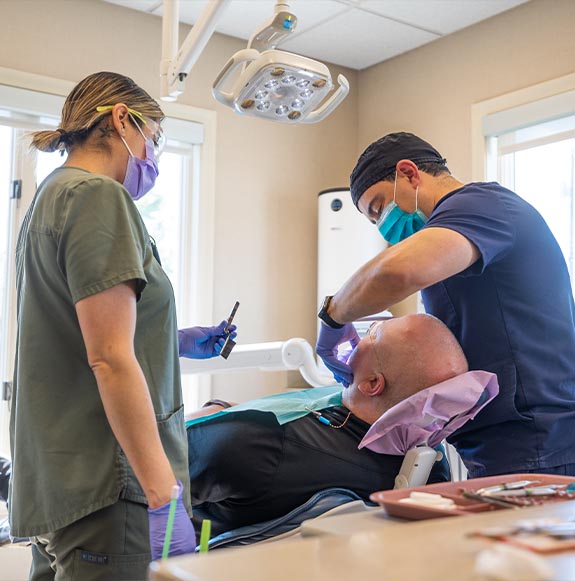 When it comes to dental care treatments, many people fear the words "root canal." But we want our patients to know there's no need to be afraid! Thanks to advances in techniques and technology, today's root canal therapy treatments can be performed in comfort. Root canal therapy can also help patients avoid more advanced damage that might require even more complex treatment in the future.
Why Choose Glastonbury Dental Associates for Root Canal Therapy?
Nitrous Oxide Sedation Available
Endodontist In-House
Caring, Team-Based Approach to Treatment
Why Do I Need Root Canal Therapy?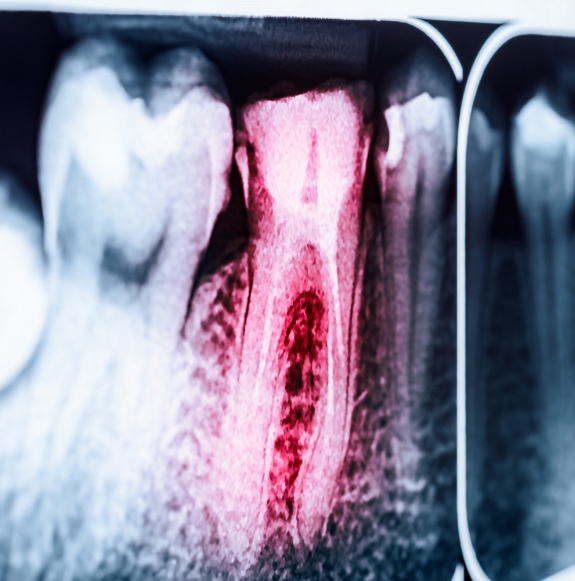 At Glastonbury Dental Associates, we offer root canal therapy to treat problems with the pulp that runs through your teeth. This pulp carries blood and nerve signals to and from the teeth, and it can become diseased or damaged for several reasons. When this happens, it can threaten your tooth, eventually leading to the need for extraction if not treated. Symptoms that you might need root canal therapy include severe tooth pain, increased sensitivity, swollen or tender gums, teeth discolored from the inside, and a recurring "pimple" on the gums.
The Process for Root Canal Therapy
The process is fairly simple. We'll numb your mouth, isolate the tooth that needs treatment, and sterilize the area. We'll then remove infected or damaged tissue from inside the tooth. The tooth is then filled with a special material, and a crown is placed to restore it to full function and strength. The problems that require root canal therapy can be life-threatening if left untreated; don't avoid the treatment you really need. Let us provide you with root canal therapy in a comfortable environment with our caring, compassionate touch.
Is Your Tooth in Pain? Save It With a Root Canal!
If you're suffering any of the previously mentioned symptoms, contact Glastonbury Dental Associates for an appointment! We help the entire Hartford, CT area, including the town of Glastonbury.
Root Canal FAQs
Have you been told that you need a root canal in Glastonbury? If so, it's natural to have several questions about the procedure. Whether you have a severely decayed or infected tooth, understanding more about your treatment will make you more confident about restoring your smile. To help you feel comfortable with the process, our team has collected and answered a few of the most frequently asked questions our patients ask about root canal therapy. Feel free to speak with our staff today if you don't see the specific answers you're looking for!
Why Do I Need Root Canal Therapy If My Tooth Doesn't Hurt?
One of the most common reasons to get a root canal is to stop a throbbing toothache, especially if it's due to an infection. That said, some people may not realize they need this treatment if they aren't actively feeling any pain. This can be due to the nerves in your tooth being severely damaged by trauma or harmful bacteria, minimizing or eliminating any sensitivity. If this is the case, then you can still be at risk of tooth loss or spreading the infection to the rest of your mouth.
Should I Get a Tooth Extraction Instead of a Root Canal?
While it may seem easier to simply remove a decayed, infected, or damaged tooth, this can also create other complications in your dental health later on. Doing so can require you to seek additional restorative treatments, which can have a higher overall cost in the future. With a root canal, you can preserve as much of your natural smile as possible while avoiding tooth loss, jawbone deterioration, and the need to replace any teeth.
How Long Does It Take to Recover from Root Canal Therapy?
The recovery period for root canal therapy varies from patient to patient, but many can go back to work or school the day after. However, you should take time to rest so your tooth can heal, especially if your job is physically demanding. Too much activity can interfere with the recovery process, diverting blood to other areas away from the surgical site. Try taking OTC or prescribed pain relievers to help manage any soreness or sensitivity. Be sure to eat a soft-food diet, chew on the opposite side of the mouth, and practice gentle oral hygiene. If you experience discomfort that worsens over time, don't hesitate to reach out to our dental team!
How Long Do Root Canals Last?
Root canal therapy is one of the safest and most effective methods for preserving a damaged tooth. The lifespan of your root canal, however, can be affected by several factors. These may include the level of damage to your tooth and when you receive your permanent filling or crown after wearing your temporary one. By following your post-op instructions, practicing routine dental hygiene, and visiting your dentist regularly, you can help your root canal last for many years to come.