Dentures – Glastonbury, CT
Extensive Tooth Loss? Dentures Save the Day!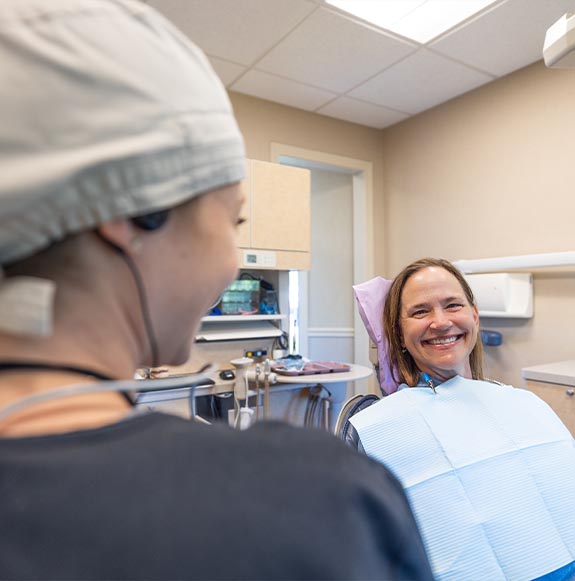 For hundreds of years, people have used dentures in some form or another to replace missing teeth and improve their oral function and health. In fact, George Washington's dentures have become a common historical talking point! (They were made of ivory, not wood!) While his dentures were made from a variety of heavy and not necessarily comfortable or attractive materials, the modern dentures and partials we can craft for you at Glastonbury Dental Associates will work well for your comfort, appearance, function, and budget!
Why Choose Glastonbury Dental Associates for Dentures?
Fully Customized for Best Comfort and Function
Affordable and Transparent Financing
Team-Based Care for Best Possible Outcome
Who is a Good Candidate for Dentures?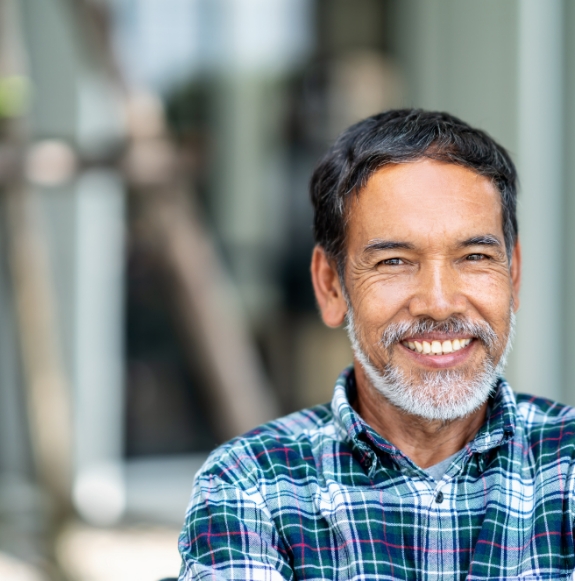 So many people throughout the country are dealing with tooth loss. Dentures are an excellent solution for anyone who is missing several, most of, or all of their teeth. No one wants to have to worry about eating, speaking, or smiling with ease. Depending on the number of teeth that you are missing and where they're located in your mouth, a personalized plan can be made just for you. As long as you have all preexisting oral health issues taken care of ahead of time, we can work towards replacing your smile with dentures!
Types of Dentures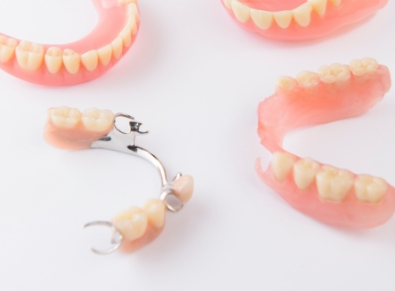 There are a few different types of dentures. During your initial consultation with us, we will help to determine which one will best restore the appearance and function of your smile:
Partial Dentures
If a dental bridge isn't enough to restore your smile, a partial denture could be the answer. They are customized to fit perfectly in your mouth between your remaining teeth. Partial dentures replace teeth in different locations of the mouth and keep neighboring teeth from shifting around and causing misalignment issues.
Full Dentures
Full dentures are supported by the shape of your mouth and the natural suction of your gums. They are used to replace an entire arch of missing teeth with a single restoration. Whether your denture is replacing the top or bottom arch, it is crafted to have a lifelike gum-colored based and enamel-colored set of replacement teeth. This way, you are left with a perfectly natural-looking smile!
Implant Dentures
For a more stable, long-lasting denture, dental implant dentures may the answer. After placing a series of dental implants throughout the jawbone and attaching a customized restoration, you can expect 70% of your natural chewing function to be stored. This denture is design to last for decades with proper maintenance and care, so you don't need to worry about having any alterations made to your dentures or having them replaced throughout the years. However, it is important that you have a strong jawbone to support them. We will discuss if you are a good candidate during your consultation.
The Benefits of Dentures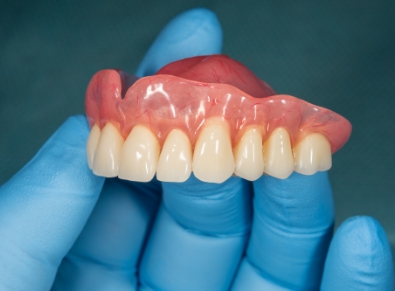 Why should you replace missing teeth with a denture or partial? For one thing, these dental prosthetics can help you avoid the oral health problems that arise from missing teeth. For another, they can help you maintain proper function and a more natural facial shape. Also, dentures are generally the most affordable option for replacing teeth, and some health complications can make other forms of replacement impossible.
Understanding the Cost of Dentures
With virtually all types of dental work, price is a major deciding factor for most patients, and dentures are no exception. When you visit our office for a tooth replacement consultation, our dentists can go over the variables that impact the cost of dentures in Glastonbury, as well as your financing options. After this appointment, you'll have a clearer idea of what to expect in terms of paying for your new smile.
Factors That Affect the Cost of Dentures
Each of our dentures is custom-made to meet a patient's individual needs and preferences, so it's difficult for us to give you an accurate cost estimate until we've gone over your situation. For example, the price may be influenced by:
Any prep work you need (such as gum disease treatment or tooth extractions)
The number of teeth you're replacing
The materials your denture will be crafted from (generally porcelain or acrylic)
It's worth noting that just because a denture is inexpensive doesn't necessarily make it the wisest option. Many cheaply made dentures fall apart easily or cause discomfort. Since you're going to be using your prosthetic every single day to speak, eat, and smile, it's worth investing in high-quality dentures in Glastonbury.
Are Implant Dentures More Expensive?
Implant dentures cost more upfront, as you have to pay for several dental implants as well as their surgical placement in the jaw. However, our patients with implant dentures will tell you that they're worth every penny!
Because dental implants are firmly embedded in the jawbone, you can count on your new teeth to stay in place without needing denture adhesive. The implants also provide you with greater chewing strength, helping you bite crunchier foods more easily. Not to mention, implant dentures can last for 30+ years, while conventional dentures typically last for five to seven years before they need replacement. So, while implant dentures cost more initially, they might actually save you money in the long term!
Does Dental Insurance Cover Dentures?
If you have dental insurance, you can typically expect some degree of coverage when it comes to dentures. Many plans provide up to 50% coverage for dentures, but the details will of course vary from one plan to the next.
At Glastonbury Dental Associates, we'll gladly file claims for most dental insurance plans, but we're in-network with:
Delta Dental
Anthem
Blue Cross Blue Shield
United Healthcare
MetLife
Other Options for Making Dentures Affordable
If you're currently uninsured, or your plan doesn't cover as much as you need it to, your denture dentist in Glastonbury has other ways of making dentures affordable. For example, we provide third-party financing through our partnership with CareCredit. Qualified patients can split up their treatment costs into manageable monthly chunks, often with low to no interest!