Porcelain Veneers – Glastonbury, CT
Transform Your Smile in Two Weeks!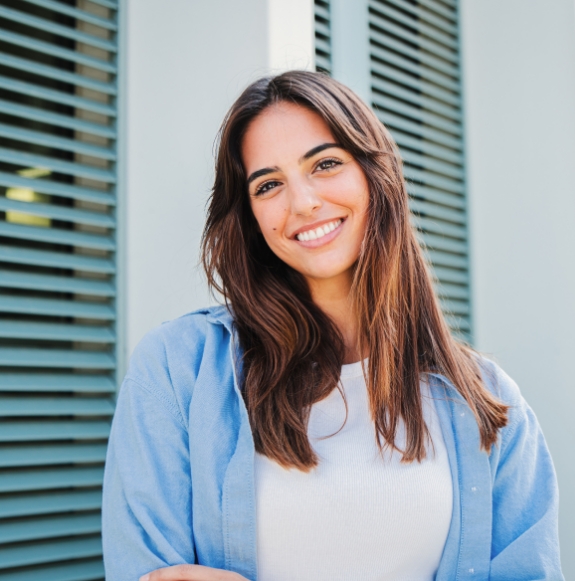 If you hide your smile because of gaps, chips, crookedness, stains, or other types of appearance problems, you have a choice. Instead, you can visit Glastonbury Dental Associates to discuss the possibility of porcelain veneers. This treatment is a very versatile option for your smile makeover and gives you the ability to overcome an array of problems to achieve a more attractive and natural looking smile.
Why Choose Glastonbury Dental Associates for Porcelain Veneers?
Digital Imaging & Virtual Smile Design
Durable and Long-Lasting Dental Ceramics
Fully Customized Esthetics
How Do Porcelain Veneers Work?
How do porcelain veneers help you change the look of your teeth? These thin, tooth-shaped shells of porcelain are bonded to the front of your smile, instantly changing the way they look. Chipped, cracked, and gapped teeth can appear intact and untarnished. Your porcelain veneers from our Glastonbury, CT dental office will be completely custom, so you don't have to worry about the unnatural smile many people fear when considering veneers. Instead, you'll simply see a new look that you can feel proud to show off! Plus, many people appreciate the fact that porcelain is stain-resistant, which adds to their durability and the satisfaction you'll feel over the years of wear.
What Does the Process Entail?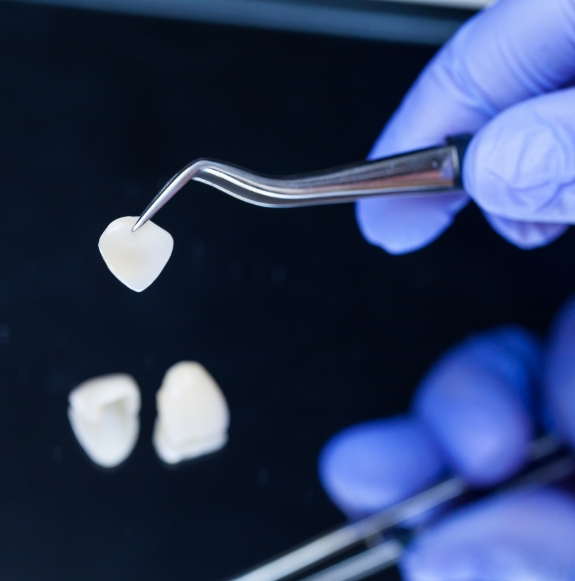 It generally takes only two appointments to complete the porcelain veneers process. For those who've suffered with unattractive smiles for years, this seems like a minimal amount of time to wait! The first appointment involves discussing your goals, creating a plan, preparing your teeth, and taking impressions. Then, the information we gather is sent to the dental lab where they make your porcelain veneers. Once they're ready, you have a second appointment to have them bonded to your teeth. We'll make sure they're exactly as you want before we consider the process complete!
Get Started Transforming Your Smile with Porcelain Veneers!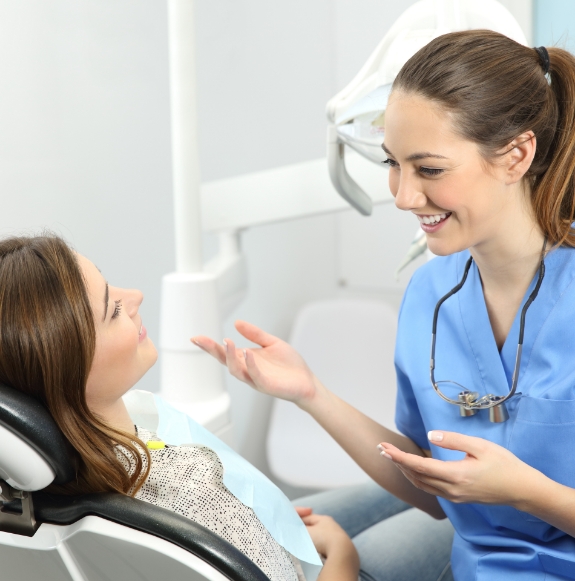 To learn more about porcelain veneers, contact Glastonbury Dental Associates. We serve the entire Hartford, CT area from our Glastonbury, CT dental office, and we're committed to continually providing reliable results for happy, healthy smiles.
Understanding the Cost of Veneers
One of the biggest perks of veneers is their versatility. While one patient may want to use a single veneer to fix a severely chipped tooth, the next may want to use 10-12 veneers to transform their entire smile. Therefore, the cost of veneers isn't the same across the board. Don't worry – we will dedicate a portion of your consultation to reviewing the price and discussing all of the financial solutions available. In the meantime, you can keep reading to learn more on the topic!
Cost vs. Cosmetic Dentistry: What's Right For Me?
When researching the cost of veneers, it's important to consider a few factors, including how the price compares to other popular cosmetic dental treatments. This will help you get a better understanding of what service is best for your smile goals and wallet in the long term!
Braces – Like veneers, braces require a higher upfront investment. However, the results of this orthodontic treatment also have the potential to last a lifetime, making it a great choice for your wallet! If you're unhappy with your smile due to minor misalignment, then veneers may be an option as well. In fact, they have even earned the nickname "instant orthodontics."
Teeth Whitening – Typically more mid-range in terms of cost, professional teeth whitening is one of the best ways to lift stubborn stains. If you want to fix more than just the color of your teeth, then you'll need to factor in the cost of additional treatments. That's why patients like veneers – they can fix multiple imperfections at once!
Direct Bonding – Not only is direct bonding one of the most cost-effective cosmetic dental services, but the treatment process is also quick – all it takes is one appointment! However, it isn't ideal for all patients, including those that are struggling with significant dental imperfections or who want the results to last for 10+ years.
Veneers – As you can see, there are numerous benefits that come with veneers, including a shorter treatment timeline and the ability to address several dental flaws at once. Plus, with a commitment to good oral hygiene best practices, they can last for more than two decades!
How to Make Veneers Affordable
Since dental insurance providers rarely cover the cost of veneers, you might be wondering what other financial solutions are available. CareCredit is one of them! This third-party financier offers several payment plans, which have helped millions of patients over the years. By picking the one that best fits your monthly budget, you won't have to pay for the entire cost of your treatment in one lump sum. Signing up also only takes a few minutes, so you'll be on your way to a gorgeous new smile in no time.
Porcelain Veneer FAQs
Although you're excited to fall in love with a beautiful smile, we know you still have several questions before you're ready to commit to the treatment. We take the time to explain the process and what you can expect during your consultation to ensure you're confident in your decision. In the meantime, here are the answers to a few of the most common questions we receive to help you make the right choice for your smile.
Am I a good candidate for porcelain veneers?
Veneers are versatile. They can be used to correct several imperfections if you're a candidate for the treatment. Besides your aesthetic concerns, you must also have good oral health. You may need to have cavities treated first. In addition, if you have certain bad habits, like grinding your teeth, your cosmetic dentist may recommend you wear a mouthguard or choose another treatment option. Certain bite or alignment concerns can also prevent you from getting veneers. If you aren't a candidate, don't worry, we'll discuss other options to help you achieve your dream smile.
How are porcelain veneers created?
After your teeth are prepared, we take an impression of your mouth to create your veneers. The dental lab carefully crafts them to meet your exact specifications. They ensure every last detail to match your color, size, and shape needs. This can take a couple of weeks, so you'll need temporary veneers while you wait. After they are ready, your permanent veneers are bonded to your teeth. They will blend in with your smile, so no one will know they aren't your natural teeth.
Will my regular teeth be affected?
Unfortunately, you will need to permanently alter your teeth. A small amount of enamel needs to be removed to ensure they sit flush on the teeth. Now, you can keep more of your enamel intact because porcelain allows the veneers to be thinner. This creates a minimally invasive treatment that is virtually pain-free.
How can I care for my veneers?
Your veneers can last for several years with the right care. Although they aren't subject to decay, your underlying teeth can still get cavities, so you'll need to maintain your oral hygiene habits. It is best to use a soft-bristled toothbrush and nonabrasive toothpaste to brush your teeth at least twice a day. Use a high-quality dental floss to clean in between each tooth. Don't forget to visit your dentist twice a year for a cleaning and checkup. During your routine exam, your dentist will check your veneers to ensure they are undamaged and securely bonded to your teeth.
How long do porcelain veneers last?
On average, veneers can last for a decade or longer if you care for them correctly. You can help to ensure they last as long as possible by avoiding factors that may cause them to break, like using your teeth as tools, chewing on inedible objects, or biting overly hard foods. It's also best to wear an athletic mouthguard if you participate in sports.