Advanced Dental Services & Technology
Staying on the Cutting Edge of Dentistry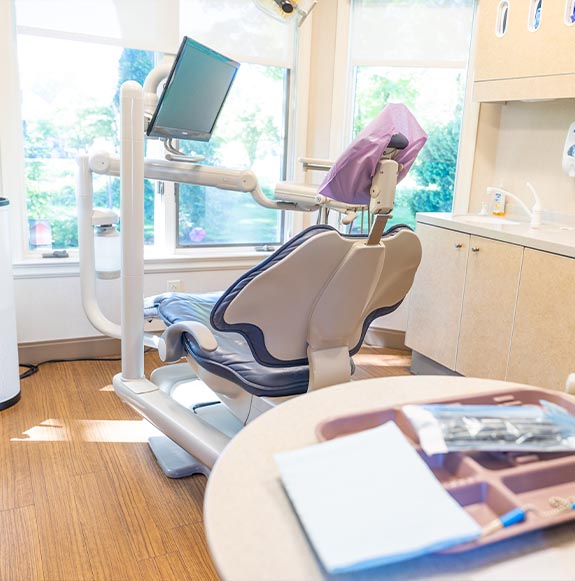 Like any medical field, the world of dentistry is always introducing new and improved ways to provide care, create diagnostics and manage treatments. At Glastonbury Dental Associates, we do everything we can to incorporate technology that we believe improves your overall experience. Exams, cleanings, fabrication of restorations, you name it, there is sure to be technology that makes the process more efficient, effective and enjoyable on your end. To learn more about these technologies and their benefits, keep reading below!
Intraoral Cameras
They say a picture is worth a thousand words. At Glastonbury Dental Associates, we believe that saying is true in dentistry, which is why we have made intra-oral photography an integral part of our dental office. In each treatment room, we have the capability to take pictures of your teeth and show them to you on a screen using special cameras designed to be used inside a patient's mouth. This allows you to see what we see, so you can fully understand any issues with your teeth, and how our dentists may fix the problem. These photographs are useful when communicating with specialists and when we are processing insurance claims. We also can print out these pictures for you so you can take them home and discuss your treatment plan with others.
Digital X-Rays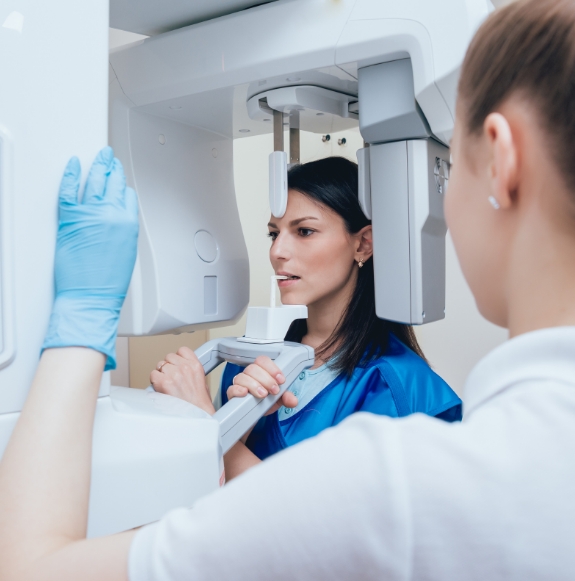 The advantages of digital over the old film X-Rays are numerous. For one, digital images are captured instantly and directly on the computer. Through our imaging software, our dentists can modify the image by changing things like contrast, sharpness, color and they can zoom in many times on particular areas of the image to get a closer look. Because the images are captured on the computer, using digital radiography eliminates the need to use harsh chemicals that develop old film X-Rays, making them environmentally friendly. Every image is stored in our computer system, so they can't be misplaced or lost. Perhaps the best benefit of digital X-rays is to the patient: each film uses about 50% less radiation than is needed to take an old-style X-Ray with film!
Digital Impression System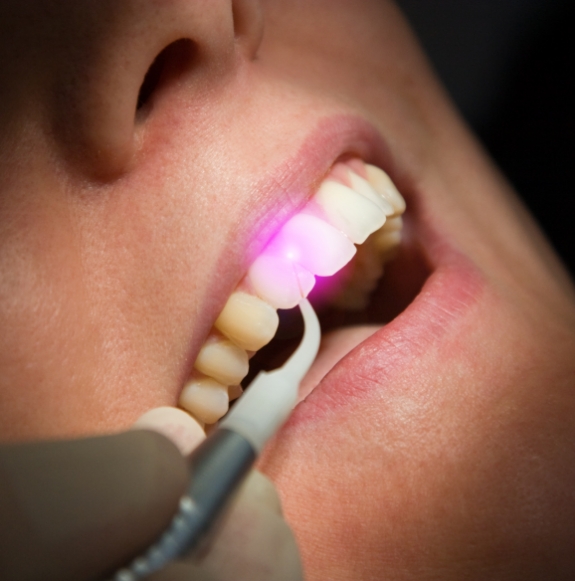 When patients have needed a crown in the past, the conventional procedure was to use goopy impression material in a tray to capture the shape of a patient's teeth. This mold would be sent to a dental lab, where a technician would then pour the impression in plaster to make a model of the patient's mouth before a crown could be made. This method often was uncomfortable, can be bad tasting and was never popular for people with a bad gag reflex!
With the advent of CEREC Connect digital impressions, the dentists at Glastonbury Dental Associates have made crown and bridge procedures quicker, easier and far more comfortable. Now, when the dentist has finished a tooth preparation, we use the CEREC imaging system to create a virtual, 3D model of your teeth on our computer. The image is then sent directly to the dental lab over the internet, where the lab creates a resin model of your mouth using a sophisticated 3D printer. Now, instead of a plaster model, the technician works off the resin model to make your crown!
Soft Tissue Laser Dentistry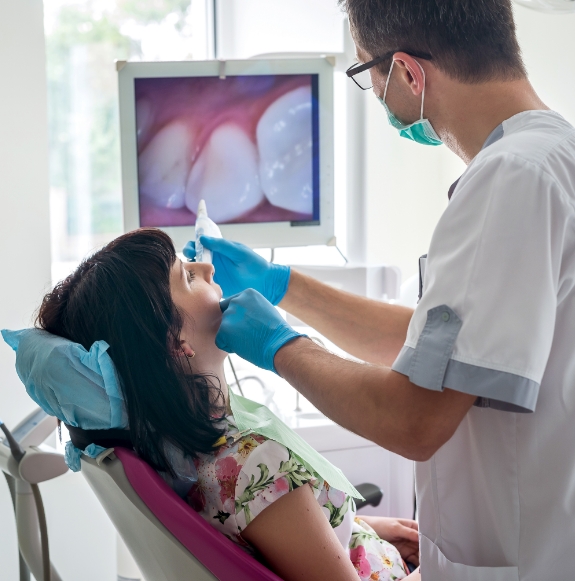 Dental lasers are a versatile tool for more comfortable and effective dental treatment. How do dental lasers work? They help us treat conditions in the mouth using light energy. The laser is very selective and penetrates to the specific depth we want to treat. The tissue absorbs the laser light, which agitates the molecules of the tissue, causing the tissue cells to gently break apart. This very precisely treats only the desired area, while leaving healthy gum, bone and tooth structure untouched.
Dental lasers can be used to treat different kinds of oral conditions. We may use lasers on soft tissues to reshape healthy gum sections or remove diseased portions, decontaminate gum pockets that are infected with periodontal disease, and treat some sores in the mouth.
Sterilization & Disinfection Center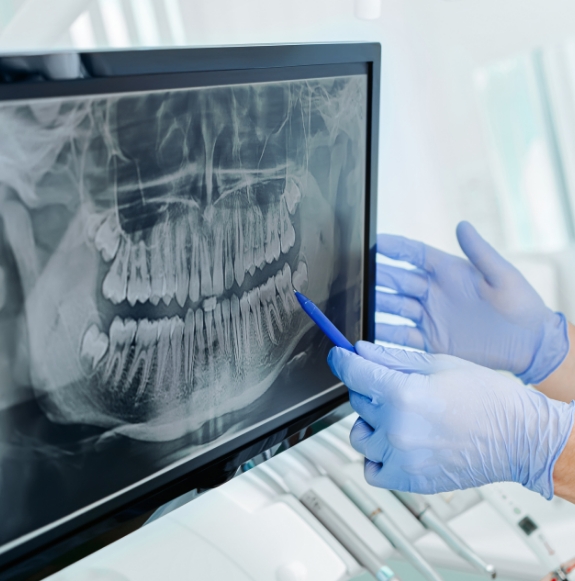 After every patient, all our instruments are put through a multi-step procedure to ensure that they are sterile for the next person. After the treatment is complete, the instruments are wiped and checked to be sure they are free from visible debris. They are then placed in a special dishwasher that further cleans and disinfects them. After this process, our staff inspects them a second time, seals them in special bags, and places them one of our autoclaves, which use heat and pressure to kill all bacteria and viruses that may still be present. These bags remain sealed and sterile until they are opened for the next patient. To be sure our autoclaves are working properly, each bag is marked with a color indicator to make sure the autoclave completed its cycle. For added insurance, a special biological test is done by our staff weekly and sent to an independent testing company for evaluation.
Our treatment rooms are also disinfected with sprays and wipes that are designed to kill 99.9% of all surface bacteria, fungi, and viruses. What's more, we believe hand washing is crucial to infection control both in and out of the treatment rooms. If you walk around our dental office, you will see Purell hand washing stations scattered throughout for patients and staff alike. At Glastonbury Dental Associates, we feel it is everyone's job to keep our guests healthy!
CASEY Patient Education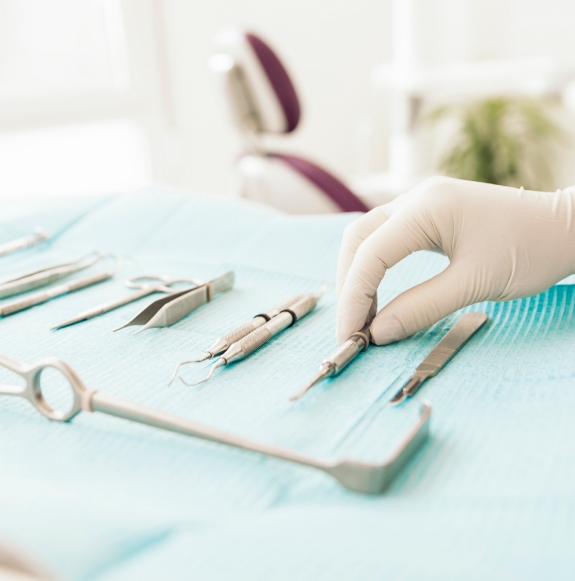 Our technology provides improved comfort and satisfaction for our patients. Our staff is always here to answer your questions and explain procedures, but we know that sometimes it is easier to understand your treatment options if you can visualize them. Our CAESY Patient Education software explains dental conditions and procedures in simple, easy to understand language, with pictures, video, and animation that show the treatment options step-by-step. It also offers us the ability to print out descriptions of our recommendations, and even create a personalized DVD for you containing videos and descriptions of the procedures we have suggested for at-home reviewal. After watching CASEY, you'll have more confidence in your treatment decisions, and you'll know what to expect during your procedure.
Sleep Apnea Treatment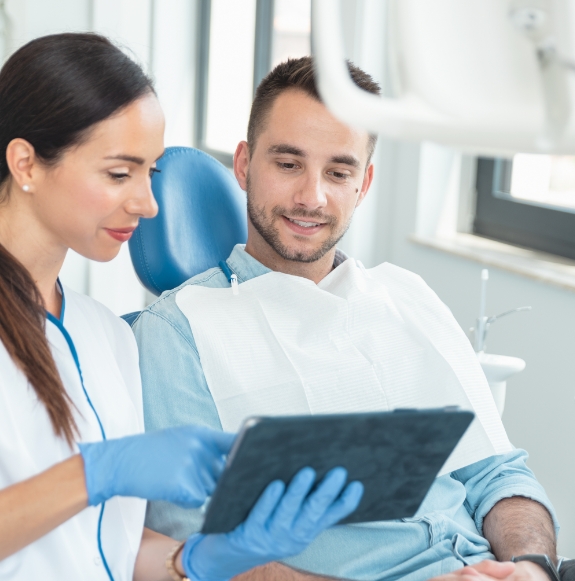 Snoring is often caused by soft tissues that collapse into the airway, creating vibrations that result in the loud noises that prevent you and your family from sleeping comfortably. In severe cases, the airway can become temporarily obstructed, causing you to gasp for breath as you wake up out of the deepest levels of sleep. A snoring appliance is a mouthpiece that positions your jaw correctly to help prevent the airway collapse that leads to snoring.
We believe that it's vital for our dental office to offer our community the widest variety of treatments possible. It might seem odd to you that a dentist can treat snoring and sleep apnea problems, but we're actually well-suited for helping these issues because we understand proper jaw position and how to best fit patients for intraoral appliances.
Learn More About Sleep Apnea Treatment
TMJ/TMD Therapy
Dentists aren't only focused on your teeth and gums. They're also paying close attention to the way in which your jaw moves. The jaw is responsible for many complex functions that you wouldn't otherwise think about until a problem appears. If you're experiencing chronic jaw pain, especially after waking up, our dental office can confirm the presence of common jaw disorders and provide therapy that improves your quality of life, such as occlusal splints.