September 9, 2021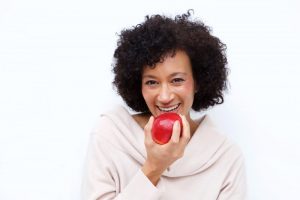 Are you getting dentures soon? If so, you probably can't contain your excitement at the thought of having a complete set of teeth again. You'll be able to speak clearly, smile confidently, and eat your favorite foods again… eventually. As comfortable as dentures in Glastonbury are, it can take some time to fully learn how to chew with them. Luckily, a dentist is here with eight simple tips to help you adjust to eating with dentures!
1. Start with a Soft Food Diet
Your gums, tongue, and jaw will need some time to get used to the new appliance you're wearing. During this adjustment period, stick to soft foods like yogurt, mashed potatoes, soups, and applesauce to get the nutrients you need without straining your mouth.
2. Take Small Bites
Once you've moved on to a heartier diet, cut your food into tinier pieces or slices before eating. Biting off more than you can chew may exert pressure on your dentures, which can feel uncomfortable on your gums.
3. Chew Evenly
Make sure to distribute an equal amount of food on both sides of your mouth as you chew. This will stabilize your dentures and keep them from shifting out of place.
4. Note the Temperature
Dentures have an insulating effect that can make it difficult to judge the temperature of foods and drinks. If you're not careful, you could accidentally burn your mouth! To prevent this, test the hotness of a food or beverage against your lips before placing it in your mouth.
5. Don't Hold Beverages in Your Mouth
Holding or swishing a liquid around in your mouth can loosen a bottom denture. If it's a sugary drink, it can even increase your risk of gum disease by leaving behind more sugar particles for harmful bacteria in your mouth. Just swallow the beverage right after sipping it.
6. Avoid Spicy Foods
Even if you adore spicy foods, you should definitely avoid them while you're still getting used to your dentures. If your gums are irritated or have sores, then spicy items can cause burning or stinging. Wait until you've fully adjusted.
7. Stay Away from Sticky Foods
Foods that are particularly sticky can be problematic for dentures. Items like gummy candy, peanut butter, caramel, taffy, and raisins can easily attach to the molars (chewing teeth toward the back of the mouth) of your dentures and loosen or even dislodge them.
8. Use Denture Adhesive
Your denture will be personalized to fit the unique contours of your mouth. As such, it should stay in place without the need for adhesive. However, applying a small amount of adhesive can help your dentures remain stable as you eat during the adjustment process.
Eating with dentures can take some getting used to, but if you follow these tips, it will feel like second nature before you know it!
About the Practice
At Glastonbury Dental Associates, our four dentists have a combined wealth of knowledge, experience, and friendliness that allows them to provide outstanding dental experiences for our patients in Glastonbury, CT, and the surrounding areas. Our team is always trustworthy and transparent when it comes to your treatments, and we're happy to answer any questions you may have, including those about eating with dentures. For more tips on adjusting to dentures, contact Glastonbury Dental Associates at 860-633-3671.
Comments Off

on 8 Tips for Getting Used to Eating with Dentures
No Comments
No comments yet.
RSS feed for comments on this post.
Sorry, the comment form is closed at this time.