August 6, 2021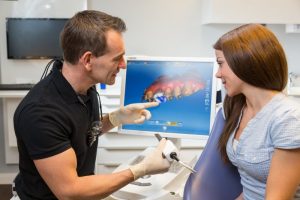 You visited your dentist for a toothache, and they recommended repairing it with a dental crown. While you want your tooth to stop hurting, you're unsure if you can squeeze multiple appointments into your schedule to complete the treatment process. Thanks to CEREC one-visit crowns, you don't have to! Unlike traditional dental crowns that require separate visits for preparation and placement, CEREC crowns can be designed, created, and placed in a single day. They certainly save you a lot of time, but that's not their only benefit. Here are four facts about same-day dental crowns to help you decide whether this treatment is right for you!
1. A Same-Day Dental Crown Takes Less Than Two Hours to Place
Ordinarily, the dental crown process takes two or three appointments over the course of several weeks. That's because your dentist has to wait for an offsite dental lab to manufacture and ship the crown to their office. With CEREC technology, your crown can be fabricated right in your dentist's office. Once impressions are taken, the computer creates a mold for your customized crown. Then, the in-house milling machine fabricates your crown from a solid block of dental ceramic. The whole process takes a little over an hour, meaning you don't have to take as much time out of your busy schedule.  
2. No More Gross, Goopy Putty Required
In the past, dentists took impressions of teeth with a messy, foul-tasting putty that often caused gagging. Luckily, CEREC uses a digital scanner instead. This thin, wand-like device is passed over your teeth to produce highly detailed 3-D models that are used to create your crown. Digital impressions are not only more comfortable, but also tend to be more accurate.
3. Same-Day Crowns Look and Feel Like Traditional Crowns
One-visit crowns don't sacrifice quality for convenience. They're made from the same type of dental ceramic as traditional crowns, so you can trust that your restoration will be personalized to blend right in with your smile. Your crown will also be just as durable, allowing you to chew with full function for years to come. In fact, if you maintain good oral hygiene, you can expect your same-day crown to last for more than a decade.
4. The Cost Is Comparable to Conventional Crowns
You might think that this cutting-edge dental technology would make same-day crowns cost more, but not necessarily. They actually cost about the same as traditional crowns in many cases. Because your dentist doesn't have to pay fees to a separate dental lab, they save money, and then pass those savings onto you. Plus, you'll only have one copay to worry about, rather than two or three for a traditional crown.
Getting a dental crown isn't how most people would choose to spend their time, but with CEREC technology, the treatment process is much more convenient and comfortable than ever. If you have a broken, worn-down, or hurting tooth, consider visiting a dentist who offers same-day dental crowns!
About the Practice
Our dentists at Glastonbury Dental Associates pride themselves on staying up to date with the latest advancements in the field of dentistry. To that end, they've invested in CEREC crowns to make the process of repairing patients' teeth easier and more positive overall. They also prioritize patients with dental emergencies like toothaches, for which CEREC crowns are a common treatment. To learn more about the benefits of same-day dental crowns, contact us at 860-633-3671.
Comments Off

on 4 Reasons You Should Consider Same-Day Dental Crowns
No Comments
No comments yet.
RSS feed for comments on this post.
Sorry, the comment form is closed at this time.