October 21, 2020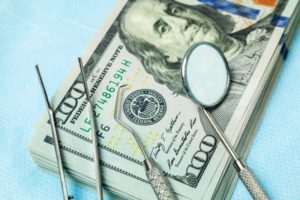 Right now, everyone is looking for ways to save money. Anyone can tell you that the first step towards building up your savings is to cut back on unnecessary expenses. Unfortunately, many people use this thinking to cancel their dental checkups and forgo dental work they think they can do without. After all, why spend money on preventive care if your teeth look and feel fine? The truth is, skipping your regular dental checkups and cleanings can cost you much more time, money, and effort in the long run, even if you don't have dental insurance! Here are four ways seeing your dentist twice a year can help you save money!
1.) Stop Small Issues Before They Become Costly Problems
The saying "An ounce of prevention is worth a pound of cure" is very true in dentistry. Issues like cavities, gum disease, and oral cancer can lead to complicated and costly problems. However, the earlier they're caught, the easier and less expensive they usually are to treat. In fact, recent estimates indicate that for every dollar spent on preventive dental care, up to $50 can be saved on restorations and repairs later.
2.) Save Money on Cosmetic Treatments
Do you love to drink coffee or eat acidic foods? Do you unconsciously chew on hard objects or grind your teeth at night? These are some of the most common culprits behind stained, chipped, and cracked teeth. Instead of damaging your teeth over time and spending money on cosmetic treatments to fix them, you can keep your smile strong and sparkling with biannual cleanings and preventive care.
3.) Avoid Expensive Dental Emergencies
Not every broken or knocked-out tooth can be prevented, but you can dramatically lower your risk of a dental emergency and the expenses that come with treating one by visiting your dentist regularly. They'll be able to spot early warning signs of problems or habits that could be leaving your smile more vulnerable. Personalized preventive care and early detection can help you avoid expensive emergency procedures later on.
4.) Spend Less on Overall Healthcare Costs
Did you know that the health of your teeth and gums influences the rest of your body? Numerous studies have linked poor oral health with an increased risk of systemic health conditions like diabetes, respiratory infections, and heart disease. In fact, experts have found that those with healthy smiles tend to pay less for cardiovascular care than those with poor oral health.
All in all, seeing your dentist twice a year is good for both your pearly whites and your wallet. If you're still concerned about the cost of your dental care, don't hesitate to ask them which dental insurance they accept and what financing options are available.
About the Practice
At Glastonbury Dental Associates, our team of highly trained dentists is proud to offer exceptional dental care during every appointment, whether you need a simple cleaning or a more complex treatment. They value trust and transparency, so they will only recommend services that will benefit you and meet your unique needs. In addition to accepting a variety of dental insurance companies, they're also happy to offer low- to no-interest financing options through CareCredit. To discover just how affordable caring for your smile can be, don't hesitate to contact them via their website or at (860) 633-3671.
Comments Off

on 4 Ways Dental Checkups Can Help Save You Money
No Comments
No comments yet.
RSS feed for comments on this post.
Sorry, the comment form is closed at this time.