August 13, 2020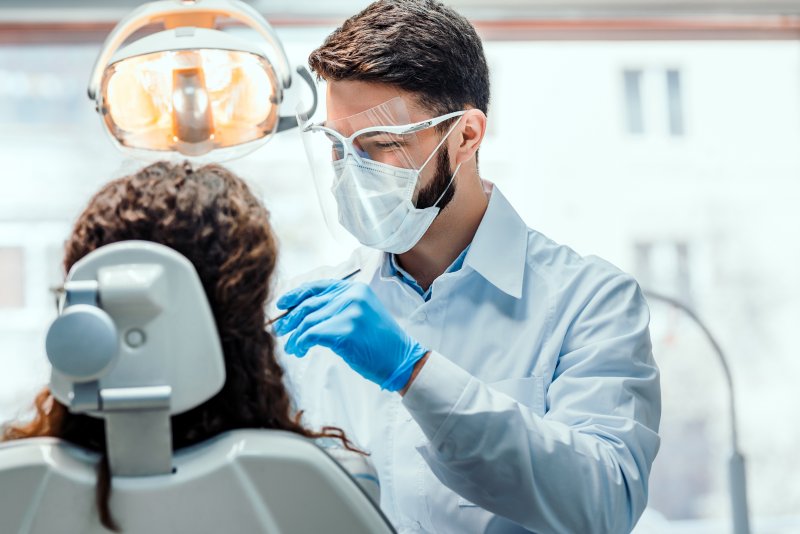 Six months ago, our world drastically changed as the novel COVID-19 virus spread into a global pandemic. Seemingly overnight, stay-at-home orders were mandated, businesses were shut down, and social distancing guidelines were in place. Fortunately, infection control measures (like significant hand hygiene and face masks) have made the transition out of quarantine and into our "new normal" possible. However, many patients still have one important question on their minds: is it safe to go to the dentist? If you have found yourself wondering something similar, read on for the answer and the dental safety measures you can expect at your visit during COVID-19!
So, Is It Safe to Go to the Dentist?
According to the American Dental Association, the answer is a resounding yes! Even before the Coronavirus, your dental team dedicated their time, skills, and resources to following rigorous sanitation guidelines put forth by the Centers for Disease Control and Prevention (CDC). Plus, a large portion of their education and training is centered around practicing proper infection control and effectively preventing cross-contamination. So, your dentist has a distinct advantage in keeping you safe at your appointment!
7 Additional Safety Measures During COVID-19
While their pre-pandemic practices continue to serve an important purpose, the CDC and the Occupational Health and Safety Administration are recommending additional safety measures in light of COVID-19. Therefore, you can expect to see the below protocols at your next visit:
Additional staff training to enhance awareness, knowledge, and preparedness.
Daily health checks of the team to ensure they are willing and able to provide safe dental care.
Extensive sanitation measures (i.e., anti-microbial rinse, hospital-grade hand sanitizing stations, etc.).
Social distancing guidelines (i.e., virtual waiting rooms, contactless greetings, etc.).
Sequenced patient scheduling to allow for ample cleaning time and reduce foot traffic in and out of the office.
Additional personal protective equipment (i.e., face shields, disposable coats, etc.).
Supplementary changes (i.e., no magazines, installed clear barriers, etc.).
Navigating through life in a pandemic can be nerve-wracking. However, your dentist is happy to implement extensive sanitation and safety measures to ensure your routine appointment isn't! So, if you're overdue for your bi-yearly visit, contact your dental team today.
About the Practice
At Glastonbury Dental Associates, a skilled team, high-quality dental care, and a comprehensive array of services come together for a truly exceptional dental experience. Backed by their talented staff, Dr. Marc Henry Scoles, Dr. Matthew P. Scoles, Dr. Jonathan C. Susat, and Dr. Julia Karpman use their extensive knowledge to deliver trustworthy, transparent, world-class dental care. If you would like additional information on how they are keeping their patients safe during COVID-19, don't hesitate to visit their website or give them a call at 860-633-3671.
Comments Off

on Is It Safe to Go to the Dentist Right Now?
No Comments
No comments yet.
RSS feed for comments on this post.
Sorry, the comment form is closed at this time.