July 7, 2020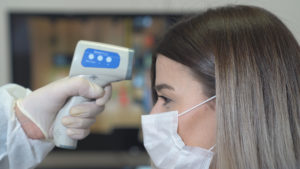 Whether you've developed a cavity from snacking or quarantine or it's simply time for your biannual checkup, there are plenty of reasons why you may be visiting your dentist as stay at home orders are eased. However, the threat of COVID-19 isn't completely gone. To keep you safe from the coronavirus while providing the dental care you need, your next dental appointment with your Glastonbury dentist will look different than any you've had before. Read on to learn why your visit will start with a quick temperature check as well as several other new COVID-19 safety infection control protocols.
Why Am I Checking in for My Appointment from My Car?
Even as the country slowly begins to reopen, the best way to protect yourself and others from COVID-19 is to practice social distancing. Checking in for your appointment from the comfort of your car eliminates the need for you to spend time in close proximity to other patients and reduces your risk of getting sick.
Why Aren't There Any Magazines or Toys in the Reception Area?
You won't spend much time inside the reception area, but you may notice that it looks somewhat different than before. Frequently touched items like magazines and toys can harbor COVID-19 germs for minutes, hours, or days at a time, so they've been temporarily removed to keep our patients safe.
Why Can't I Bring My Own Gloves into My Appointment?
Gloves are an excellent way to prevent infected particles from settling onto the skin of your hands. However, those germs stay on the surface of your gloves and contaminate anything you touch with them. We'll ask you to dispose of your gloves before entering the practice to minimize the risk of bringing any outside germs in.
Why Do I Have to Wear a Mask If I Don't Have a Cough?
It can take anywhere from two to 14 days after contracting COVID-19 to show symptoms. That means people who appear to be healthy can easily spread the coronavirus for several days before they begin to feel ill. When everyone wears a mask, it drastically reduces the transmission of germs from people who don't realize that they are sick.
Why Are They Taking My Temperature If I Don't Feel Sick?
As COVID-19 continues to be studied, experts are discovering that a majority of cases show mild to no symptoms. That's why everyone who enters our practice undergoes a no-touch temperature check. Patients who show signs of fever will be asked to reschedule their appointment out of an abundance of caution.
Why Is My Dentist Asking Me to Rinse with Mouthwash Before My Appointment?
Before your treatment begins, your Glastonbury dentist will ask you to rinse with an antimicrobial mouthwash that's designed to thoroughly eradicate dangerous particles in your mouth. While researchers are still unsure if it has any effect on COVID-19, keeping your mouth as clean as possible before administering dental care is a worthwhile extra layer of safety.
The COVID-19 pandemic may have changed what your dental appointments look like, but it hasn't changed your dentist's commitment to your overall health. If you need to visit them, you can feel confident that they are taking every precaution to keep you safe.
About the Practice
At Glastonbury Dental Associates, nothing is more important than the wellbeing of our patients, staff, and community. After carefully monitoring the COVID-19 pandemic and the recommendations of the CDC, we have added 23 additional infection control protocols to our ambitious levels of care. If you'd like to learn more about the details of our Commitment to Safety, more information can be found on our website or you can give us a call at (860) 633-3671.
Comments Off

on Your Questions About the New COVID-19 Precautions, Answered
No Comments
No comments yet.
RSS feed for comments on this post.
Sorry, the comment form is closed at this time.